Pro Drivers Driving School
Under new management
ProDrivers has proven itself to be one of the best drivers training school in Ontario
We have been training drivers over 10 years, with a passing rate of 95%.
Here at ProDrivers we got over 50,000 hours of Driving Instruction Experience, which gives you the Full Confidence to become a Safe and Defensive driver, and make you Succeed in Passing your G2, G Road Tests.
Our Mission is to provide Quality and Comprehensive driver education and training.
Driving School Location:
Attn:Arif,
Pro Drivers Driving School,
512 Coronation Blvd
Cambridge, Ontario. N1R3E5
Phone:519-267-8838
Website:
www.myprodrivers.ca
Email:
Click Here
or fill the form on right side >>
Pro Drivers Driving School Map
Pro Drivers Driving School Student Reviews
I went to prodrivers driving school,and i would say it is the best driving school in cambridge and kitchner area,got my g2 on first attempt,looks like they are committed for ultimate training behind wheels, by Frank posted on Friday, November 30, 2012
My experience with Pro Drivers was garbage, I paid for lesson`s i never received and the lesson`s I did receive the instructor showed up late 4 times and dropped me off early. Heather by Heather Gordon posted on Saturday, December 01, 2012
Hello Heather Gordon,Your feed back is under investigation by prodrivers driving school,if you can provide us more information like your instructor name and your course date that will be helpful,please note by leaving feed back you are confirming your are student of prodrivers driving school, Thanks by Admin of prodrivers driving scho posted on Saturday, December 01, 2012
I had a great experience with my instructor mr.muhammad.His punctuality and patience during my learning time was appreciative.I got my G2 with his good training.Thanks muhammad and pro drivers. by Saritha baby posted on Wednesday, March 29, 2017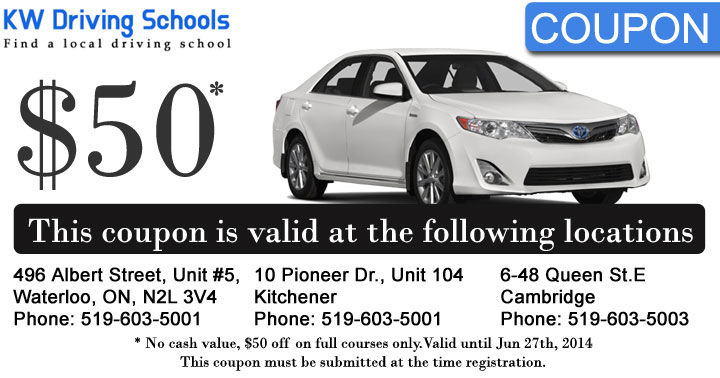 NO TEXT & DRIVE
Drive safer by using a Hands-free wireless communications devices with an earpiece or Bluetooth device if you can't wait to use your cell phone. Drive safe!
Display Your Logo
100% Student Reviews
We are an independent directory, which means we're not affiliated with any particular schools. We do not take sides and display all the comments we receive from users - no matter if they are positive and negative.

If you've attended a driving school we invite you to write a review on the school you studied with! Help the next person make an informed choice!