Conestoga Driving School
All our certified in-car and in-class professional instructors are committed to providing our students the knowledge for safe, defensive and proactive driving habits that will remain with them throughout their driving careers. Rather than learning "just enough to pass the test" we instill safety, awareness and responsibility as lifelong driving habits. Our students graduate with a high degree of confidence. 95 percent of out students pass their government examination on their first attempt.

At Conestoga Driving School you will receive:
The SMART system in class training course
One to One instructor for In-Car training
Training in late model compact sedan, and with dual brakes for your complete safety
Lessons personalized to your needs
Confident and experienced instruction
Pre-test to prepare you for the road test exam
Car for the road test whether your road test is in Kitchener, Guelph, Stratford or other Adult refresher and re-training courses, i.e. Highway, bridges and tunnels
Driving School Location:
Attn:David,
Conestoga Driving School,
336 King St West
Kitchener, Ontario. N2G1B7
Phone:519-603-5001
Website:
www.conestogadrivingschool.com
Email:
Click Here
or fill the form on right side >>
Conestoga Driving School Map
Conestoga Driving School Student Reviews
I am very happy ,got my license, today! So many of my friends went here and everyone got their license on the first try. Thanks Dave by Joel posted on Friday, March 09, 2012
I got my G2 licence after my complete training course with Connestoga Driving school.This is the best school in Ontario.Tks a ton to all my inclass and in car instructors-David,TL,Mariana and Moe

They all are really skilled in their fields.I would recommend everyone to join this school.
Connestoga driving school never compromises on anything and delivers the best.That's why,they have 95% success rate by Ankush posted on Monday, December 08, 2014
Driver showed up with his kid in the back.
Vehicle had faulty wipers during lesson, instructor said not to worry about it.
Informed the school, several calls required to get the lesson completed with a different instructor. Worst experience ever. by Shawn posted on Tuesday, August 25, 2015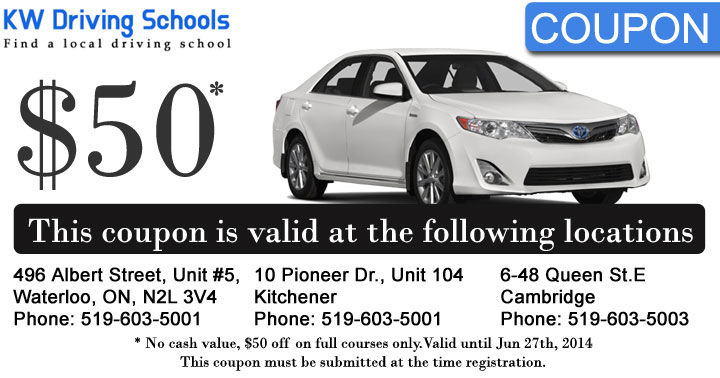 NO TEXT & DRIVE
Drive safer by using a Hands-free wireless communications devices with an earpiece or Bluetooth device if you can't wait to use your cell phone. Drive safe!
100% Student Reviews
We are an independent directory, which means we're not affiliated with any particular schools. We do not take sides and display all the comments we receive from users - no matter if they are positive and negative.

If you've attended a driving school we invite you to write a review on the school you studied with! Help the next person make an informed choice!