Privacy Policy
Thank you for your interest in KW Driving Schools. Your privacy is important to us and we have prepared this Privacy Policy to explain to you how we collect, use, and share any information we obtain through http://www.KW Driving Schools.com (the "Site"). This Privacy Policy does not govern our use of any information you provide to us when you call us, write to us, or communicate with us in any manner other than through the Site. Because the Internet is global, information about you that we collect or that you submit may be transferred to, processed in, and held in countries (including the United States) other than the one in which you reside. By using the Site, you explicitly consent to such use of your information and agree to the terms of this Privacy Policy. This Privacy Policy is effective as of (date).
Information We Automatically Collect. We automatically collect certain information to help us understand how our users use the Site (which we will refer to in this Privacy Policy collectively as "Usage Data"). For example, each time you visit the Site we automatically collect your IP address, browser and computer type, access time, the webpage from which you came, and the webpage(s) that you access during your visit. We also use cookies (which are small amounts of data sent from a web server to your browser that are stored on your computer's hard drive) to keep track of your use of the Site, to validate your identity, to remember your password and preferences, to tailor the Site to meet your personal interests, and to improve the quality of the Site. Generally, you can set your browser not to accept cookies or to notify you if you are sent a cookie, giving you the opportunity to choose whether or not to accept the cookie. Please note that if you do set your browser not to accept cookies, certain areas of our Site may not function properly.
Information You Choose To Submit. You can visit the Site without telling us who you are or revealing any personal information (which we will refer to in this Privacy Policy collectively as "Personal Information") about yourself. If, however, you wish to register to become a member of the Site, you are required to provide certain Personal Information (e.g., your name, age, gender, address, e-mail address, credit card number, telephone number) and we ask that you also create a user name and password. We use your Personal Information to fulfill your requests for products and services, to improve our services, and to contact you from time to time about us, our Site, and our products and services.
Our Information Sharing Practices.
Generally. Except as otherwise described in this section of our Privacy Policy, we will not share your Personal Information or Usage Data with any third party without your permission.
Aggregated Data. From time to time, we may share aggregated Personal Information (excluding any credit card information) and Usage Data with third parties. We will not share any aggregated data, however, in manner that would enable the recipient to personally identify you. In addition, we may combine Usage Data with Personal Information in a manner that enables us to trace Usage Data to an individual user. We do so, however, only for our own internal business purposes and will not share such combined data with third parties without your permission.
Service Providers. From time to time, we may enter into relationships with third parties who provide services to us (e.g., shipping services, credit card processing services, or data management and storage services). In those circumstances, we disclose information about you that is necessary for such service providers to perform those services and require that they maintain the confidentiality of such information.
Other Disclosure Scenarios. Notwithstanding anything in this Privacy Policy to the contrary, we reserve the right to share any information we have collected about you or that you have submitted: (1) in response to subpoenas, court orders, or legal process, or to establish, protect, or exercise our legal rights or defend against legal claims; (2) if we believe it is necessary in order to investigate, prevent, or take action regarding illegal activities, fraud, or situations involving potential threats to the safety of any person or property; (3) if we believe it is necessary to investigate, prevent, or take action regarding significant abuse of the Site's infrastructure or the Internet in general (such as voluminous spamming, denial of service attacks, or attempts to compromise the security of information); (4) to our parent company, subsidiaries, joint ventures, or other companies under common control with us (in which case we will require such entities to honor this Privacy Policy); and (5) if we are acquired by or merged with another entity.
Public Areas. Your use of areas of the Site that are intended for interaction with other users (e.g., message boards, discussion rooms, and other online forums) may allow you to post Personal Information. By choosing to use these areas, you understand and agree that anyone may access, use, and disclose any Personal Information that you post to those areas.
Choice/Opt-Out. We offer you the opportunity to choose not to receive communications from us. If you would like to take advantage of this opportunity, please let us know by accessing and updating your profile in the "My Account" area of the Site. Please note that sometimes these requests may take up to ten business days to process and that we are not responsible for removing information about you from the database of any third party to whom we were authorized to disclose your Personal Information prior to processing your request. Even if you do take advantage of this opportunity, we reserve the right to send you administrative messages relating to the Site (e.g., about changes to this Privacy Policy) and to contact you regarding goods or services you have ordered.
Modifying and Deleting Your Personal Information. If you would like to modify or delete from our database any Personal Information you previously submitted to us, please let us know by accessing and updating your profile in the "My Account" area of the Site. Please note that sometimes these requests may take up to two business days to process, that any Personal Information that we have copied may remain in back-up storage for some period of time after your request, and that if you delete certain information (e.g., your billing address or credit card number) you may not be able to order services in the future without re-submitting such information. Also, please note that we will maintain information about you in our database whenever we are required to do so by law.
Security. We have implemented reasonable measures to help protect your Personal Information from loss, misuse, or unauthorized access or disclosure. Unfortunately, however, no data transmission over the Internet can be guaranteed to be 100% secure. As a result, while we strive to protect your Personal Information, we cannot guarantee its security.
Links. The Site may contain links to other websites, including some through which you may purchase products or services. We are not responsible for the privacy practices of any such other website and urge you to review such practices prior to submitting any information to such websites.
Changes. We may update this Privacy Policy from time to time. If under any such update we make any material change to the way in which we treat your Personal Information, we will inform you of such change via email or by posting a notice on relevant areas of the Site. Any updated version of this Privacy Policy will be effective as of the date set forth therein.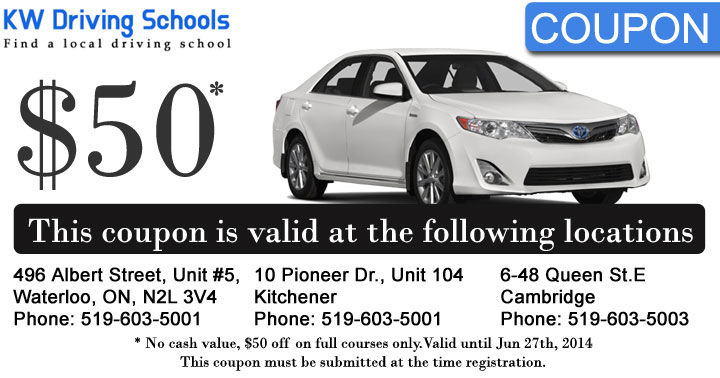 NO TEXT & DRIVE
Drive safer by using a Hands-free wireless communications devices with an earpiece or Bluetooth device if you can't wait to use your cell phone. Drive safe!
Display Your Logo
100% Student Reviews
We are an independent directory, which means we're not affiliated with any particular schools. We do not take sides and display all the comments we receive from users - no matter if they are positive and negative.

If you've attended a driving school we invite you to write a review on the school you studied with! Help the next person make an informed choice!
Driving Lessons
By taking an MTO-approved Beginner Driver Education Course at a driving school, G1 licence holders may qualify for a four-month reduction in the 12-month minimum G1-licensing period as well as a potential reduction in insurance premiums.
Most driving schools instructors are thrive on teaching new and experienced drivers to become a safer driver in Kitchener-Waterloo area. You will not learn driving, you will be entitles insurance discount when you pass full package course. Ask one of the driving schools listed & enroll with local driving school today!
Driving is a Privilege,
Not a Right
Driving Privileges is common misconception that any person in the Canada has a right to drive. There is no such right in the Constitution. Driving a motor vehicle is a privilege, and that privilege can be taken away or modified based on certain conduct, including several issues surrounding drunk driving cases.