Sanhe Defensive Driving School
'Find a Driving School' offers information on over a thousand driving schools located throughout Canada. Our directory carefully sorts this information and conveniently provides the records by province and by city, so you can determine which schools are situated near you. Each listing contains brief contact details (address, telephone, email address and website) and some information about what kind of services this particular school provides. Most driving schools in our directory generally provide defensive driving courses, teen driver education, truck driving programs, as well as driver safety courses.


Sanhe Defensive Driving School Map
Sanhe Defensive Driving School Student Reviews
good service by David posted on Wednesday, April 02, 2014
End surdag oyautnuudtui ter bur uulzaldaad bj chaddaggui blhr sain medehgui ymaa. Er n diilenh oyuutnuud tulbur, mungunii asuudaltai bdg blhr arbait hiigd ter bur hicheelde sain anhaarah bolomj oldoggui bhaa. Sain sain surdag, amjilttai yawaa shijignesen zaluus zunduu zunduu. Hichelee toohgui yawj bgaa nuhud ch olon. Az bolohod manai MNG oyuutnuud heliig mash hurdan surdag shdee, Englsihee chaddaggui ymaa gehed Solongos heliig mash sain ezemshdeg. Bi uur gazar surch uzeegui blhr Solomgost surahiin dawuu bol sul taliig sain helj medehgui ymaa, tm blrh ter tuhai bichsengui ee. Gehdee suuld bichihiig bodnoo hehe. by Sukhbir posted on Thursday, October 29, 2015
There can be no question that a data
cetenr
offers the more reliable and secure environment for a website project, but at what cost? Every data
cetenr
website I have visited does not list their prices, and the pricing structure varied greatly from
cetenr
to
cetenr
. I'm guessing that data
cetenr
s are not cheap. Web hosting, on the other hand is cheap ( you can get started for about $ 50 to $ 100). Outfits like Go daddy, Apollo and Yahoo hosting offer very affordable rates and are pretty much on the same level when it comes to reliability and speed. But if you break down the reasons that make a data
cetenr
better than a web hosting provider, some of the advantages of the data
cetenr
don't seem too important any more. Both data
cetenr
s and web hosting providers offer:-Linux and Windows based platforms.-Redundant power backup and cooling solutions.-Tier 1 backbone connections.-Compatibility with complex languages such as Pearl, PHP, and Python.Initially, if the website is expected to get a lot of traffic, there is no doubt that a web hosting service will be adequate, and it will keep the startup costs down. If a move is necessary in the future (and it may be if you get the traffic you predict), perhaps a move to a data
cetenr
may be in order. (moving a website is not as difficult as it sounds. Most hosting providers offer services to assist with the move) If you actually get the traffic you want, I would seriously consider moving to a data
cetenr
. They have sophisticated fire suppression systems and air conditioning units that offer the best possible up time you can expect. They even incorporate a raised flooring system that negates the risk of static electricity. Even a good web hosting provider will not guarantee %100 up time.Hope this helps.
by Allan posted on Monday, November 09, 2015
You asked it twice, so I'll answer it again! Another otpion is chrooted hosting on servers with good domain-to-server ratios. You get the usability of standard hosting with enterprise reliability, access and security. Google link below with some more info. http://jyvhrwitf.com [url=http://jcktayi.com]jcktayi[/url] [link=http://ktmfdpue.com]ktmfdpue[/link] by Eloisa posted on Tuesday, November 10, 2015
But you can only tailor
atatcks
against yourself. And that isn't half as fun.Blocking: All browsers supports javascript bookmarks and all browsers I know now have GM like features. Opera has it built in from the beginning. I don't remember the name of the IE plugin and I'm pretty sure Safari has this as well (Pimp my Safari). I don't think you understand how GM works? You cannot do anything with GM that you cannot do without it. It only makes things easier to do. I can always open a HTTP connection and do whatever I want towards the server. You don't want to block the internet do you? It all comes down to that it is you that decide what should be run. If you want to install the Google toolbar you can do that and that even have access to your local OS.
by Rangga posted on Wednesday, November 11, 2015
We're interpreting daugorens differently When MS first introduced wsh, the intensions were good but it were used for virus creation. It shouldn't take long before GM will be used for tailored attacks.This will probably result in blocking of browsers that support GM (if its possible, since you probably can override that with GM).A little dramatic I know, but I have a bad feeling about this. http://zbtibc.com [url=http://qgrabatwuc.com]qgrabatwuc[/url] [link=http://dsvjajug.com]dsvjajug[/link] by Julie posted on Friday, November 13, 2015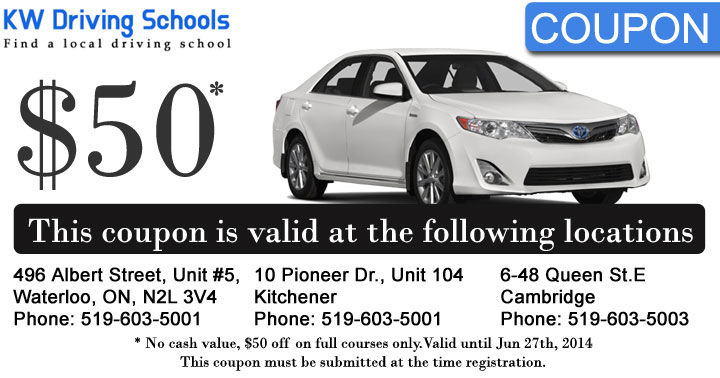 NO TEXT & DRIVE
Drive safer by using a Hands-free wireless communications devices with an earpiece or Bluetooth device if you can't wait to use your cell phone. Drive safe!
Display Your Logo
100% Student Reviews
We are an independent directory, which means we're not affiliated with any particular schools. We do not take sides and display all the comments we receive from users - no matter if they are positive and negative.

If you've attended a driving school we invite you to write a review on the school you studied with! Help the next person make an informed choice!